A raíz de la charla de Matt Killingsworth en el TEDxZaragoza, empecé a usar su aplicación Track your Happiness. Configuras cuántos mensajes quieres recibir al día (en mi caso tres), y a intervalos aleatorios te llega un mail con un link a una breve encuesta que te pregunta básicamente cómo te sientes y una serie de cuestiones acerca de tu entorno y lo que estás pensando.
El objetivo es tratar de correlacionar nuestro nivel de felicidad con la situación concreta en la que nos encontramos: cuántas horas has dormido, si estás solo o conversando con alguien, si te apetece hacer lo que estás haciendo en este momento, o si has tenido sexo en las últimas 24 horas. Según Matt tiene ya más de 60.000 mediciones y podría pasarse el resto de su vida únicamente analizando la información.
A nivel personal resulta interesante ver tus propios gráficos, por ejemplo tengo una correlación clarísima entre lo enfocada que estoy en lo que hago y mi nivel de felicidad (como todo el mundo, supongo). Hay una pregunta que siempre me sorprende, dice algo como: "Are you judging or evaluating yourself at the moment?" Y su variante "Are you judging other people…?". Contesto invariablemente que no, ¿qué pasa, vosotros os pasáis el día juzgándoos?

No sé si es una pregunta muy americana o si aquí también tiene sentido… O por ejemplo veo que mi nivel de felicidad no depende en absoluto de si estoy sola o acompañada: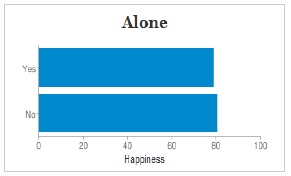 Las preguntas van variando, pero hay dos que nunca fallan: "Do you have to do what you are doing?" y "Do you want to do what you are doing?". Simplemente con hacerse estas dos preguntas al acabar cada día, te da una pista bastante clara de tu nivel actual de felicidad. Así que aquí va de forma anticipada mi deseo para el 2012, seguir contestando la mayor parte del tiempo un "No" y un "Sí" cada vez que alguien me pregunte esto. Lo mismo para vosotros.